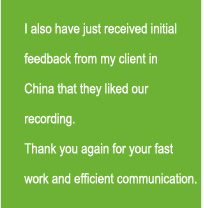 Mandarin is the official spoken language of the People's Republic of China (PRC), the official language of the Republic of China (R.O.C./Taiwan), and one of the four official languages of the Republic of Singapore.

It is one of the six official languages of the United Nations, known as Pǔtōnghuà (in Chinese mainland), Guóyǔ (in Taiwan) or Huáyǔ (in Singapore).
For more samples or custom demos, kindly reach us via
Email
or by phone.